Quick Details
Place of Origin:China (Mainland)
Brand Name:Leadshine
Model Number:ES-M32320
Voltage(V):24V
Output Power:300W
Usage:Boat, Car, Home Appliance
Certification:CE, ROHS
Protect Feature:Waterproof
Packaging & Delivery
Selling Units:Single item
Single package size: 40X35X25 cm
Single gross weight:1.5 kg
Package Type:CARTON
Lead Time :5 days
ES-M32320 best price 300W-750W hybrid stepper servo motor driver for cnc router
HBS57 and 573HBM20-1000 hybrid servo motor driver for CNC router, Cutting machine, 3D printer.....
It can effective replace 300W servo with a half cost of Panasonic servo.
It has faster response and better precision than stepper, and much easier to use than servo.
Highlights
· Stepper based servo control
· Direct 120 / 220 / 230 AC input, or DC to 100V
· Closed position loop to eliminate loss of synchronization
· No torque reservation
· Load based output current for extra low motor heating
· Smooth motor movement and low motor noise
· Quick response and no hunting
· No overshooting and almost zero settling time
· High starting torque, high inertial loads
· Capable of driving NEMA 23, 24, 34, and 42 easy servo motors (stepper motors with encoders)
· Plug-and-play, no tuning for most of applications
Features :
No Tuning, Nulls loss of Synchronization
Closed-loop, eliminates loss of synchronization
Broader operating range – higher torque and higher speed
Reduced motor heating and more efficient
Smooth motion and super-low motor noise
Do not need a high torque margin
No Tuning and always stable
Fast response, no delay and almost no settle time
High torque at starting and low speed, high stiffness at standstill
Lower cos
Descriptions :
The HBS series offers an alternative for applications requiring high performance and high reliability when the servo was the only choice,
while it remains cost-effective. The system includes a 2-phase stepper motor combined with a fully digital, high performance drive and
an internal encoder which is used to close the position, velocity and current loops in real time, just like servo systems. It combines the
best of servo and stepper motor technologies, and delivers unique capabilities and enhancements over both, while at a fraction of the cost of a servo system.
Applications :
Its great feature of fast response and no hunting make it ideal for applications such as bonding and vision
systems in which rapid motions with a short distance are required and hunting would be a problem. And it is ideal for applications where
the equipment uses a belt-drive mechanism or otherwise has low rigidity and you don't want it to vibrate when stopping.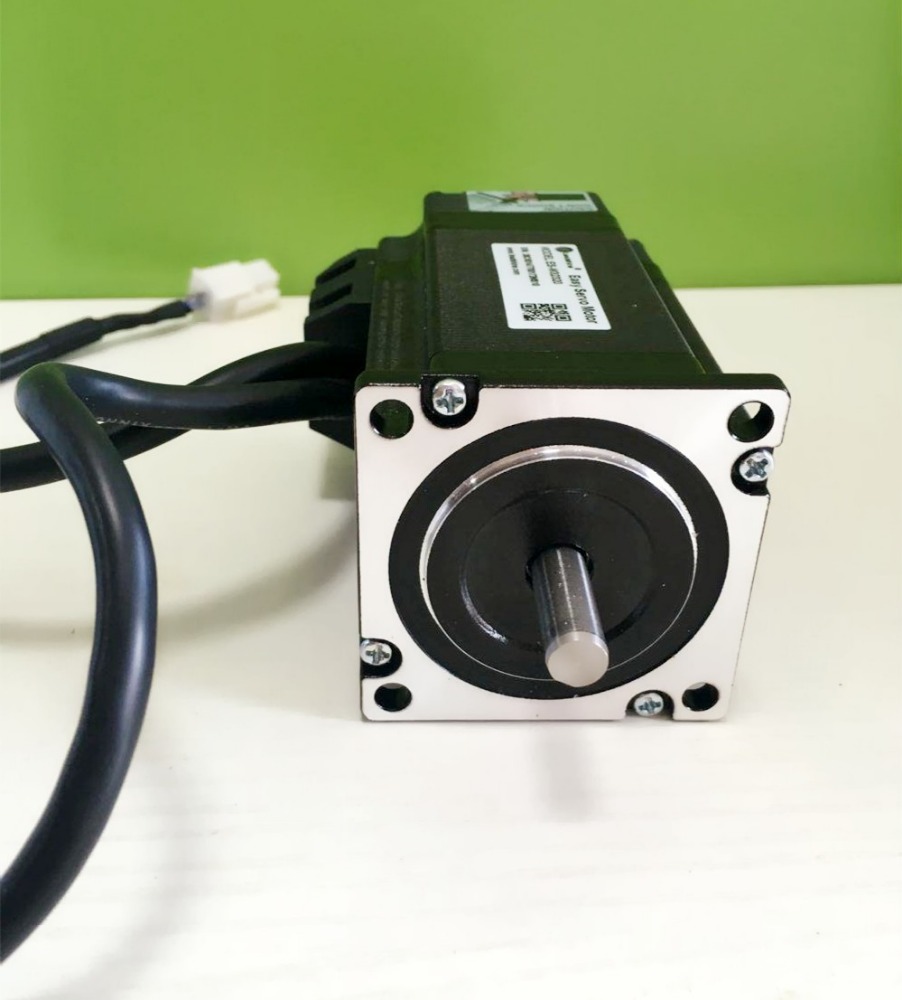 ES-D508=HBS57, ES-M32320=

573HBM20-1000.
The installation is same as stepper, very simple,
And we will offer encoder cable as standard package, secure you trouble-free to use it.
If you have installation, setting problem with CNC, we will solve it for you as long as you contact us!