l Features
1. First high power fiber laser cleaning machine in China.
2. Non-contact cleaning, no damage to work-piece
3.Precision positioning, selective cleaning, desired cleaning area can be applied to the work-piece.
4. No need chemical detergent, no consumable. Safe & environment-friendly.
5. Easy to operate, Either portable or equipped with robot for automatic cleaning.
6. High cleaning efficiency, time-saving.
7. Stable laser cleaning system, free maintenance.
l Applications :
1.Metal surface rust removal
2.Paint cleaning
3.Oil stain, contaminant cleaning
4.Coating surface cleaning
5.Welding/Coating surface pre-treatment.
6.Stone figure surface dust & attachment cleaning.
7.Plastic mould residues cleaning.
l Comparison with traditional clean methods
| | | | | |
| --- | --- | --- | --- | --- |
| Comparision | Laser Cleaning | Chemical Cleaning | Mechanical Grinding | Dry ice cleaning |
| Washing Method | non-contact cleaning | contact cleaning | Abrasive contact cleaning | non-contact cleaning |
| Harm to base material | None | Yes | Yes | None |
| Washing Efficiency | High | Low | Low | Mid. |
| Consumable | Power | Chemical Detergent | Abrasive paper, grinder, abrasive stone | Dry Ice |
| Washing result | Very good, very clear | Medium, uneven | Medium, uneven | Good, uneven |
| Precision Washing | Accuracy controllable. High precision | Uncontrollable, low precision. | Uncontrollable, medium precision. | Uncontrollable, poor precision. |
| Safety/Environment | No pollution | Chemical pollution | Dust pollution | No pollution |
| Operation | Easy to operate, portable or automation optional. | Complicated process, higher technical requirement of the operator. Pollution prevention measures required. | Need more time & manpower. Pollution prevention measures required. | Easy to operate, portable or automatic. |
| Investment | High investment on machine. But no consumable, low maintenance cost | Low investment on machine. But expensive consumables | Medium investment on machine. High man-power cost. | Medium investment on machine. High consumable cost. |
| | |
| --- | --- |
| Model | ALK-LC-100W |
| Laser Power | 100W |
| Cooling Way | Cooling |
| Laser Wavelength | 1064 nm |
| Power Supply | AC220V |
| Dimension | 820mmX400mmX700mm |
| Weight | 50KG |
| Working Temperature | 5-40°C |
| Laser source type | Fiber laser source |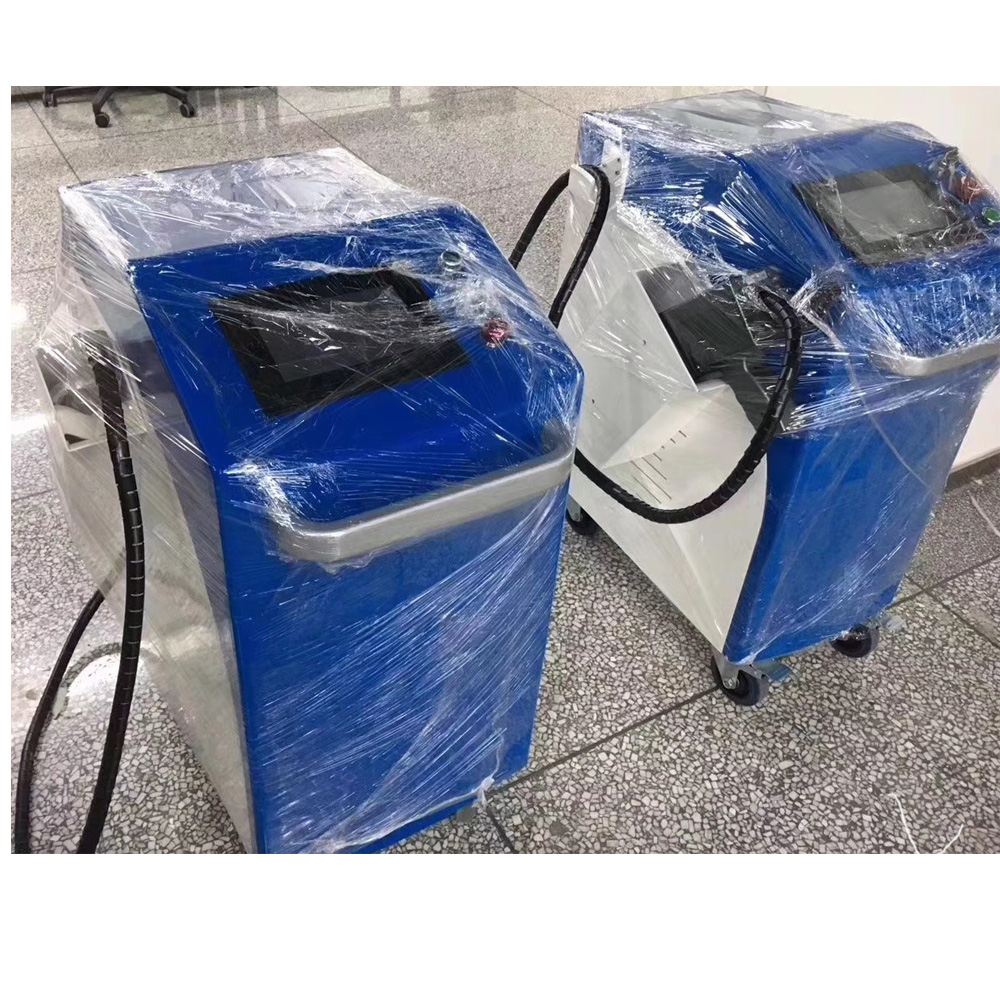 l Cleaned samples :